Proud to support the world's most advanced operating system..
JWD TECH is proud to offer support for Apple's MacOS X. Jeff is an Apple Certified Help Desk Specialist, Apple Certified Desktop and Laptop Technician, Apple Certified Support Professional 10.7, Apple Certified Technical Coordinator 10.7, Mobility Technical Competency of the Apple Consultants Network program. When you turn to JWD TECH for MacOS X support you will never hear "Now, go to the Start menu..."

JWD TECH can help you get the most out of your Mac. Want to learn more about iLife? FaceTime? iCloud? MacOS X ? Making internet phone calls or video calls using Skype? Call Jeff for an appointment.
Are you a Windows user interested in switching to the Mac?
In-home and on-site MacOS® service and support for one low price.
JWD TECH offers Mac users the same quality in-home, on-site service and support at the same low flat-rate, as it's Windows customers. JWD TECH is your local choice for MacOS support, service and task based training on the FL Emerald Coast.
Call or e-mail Jeff Danick for more information or to schedule an appointment.
850-368-3528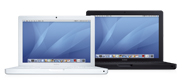 Let JWD TECH take you from "No I can't" to "Yes I can!"
What has JWD TECH helped it's clients learn so far?

Just a small sample of what JWD TECH has been happy to help it's clients learn -
Digital Lifestyle - Now that you have that new Mac with Apple's iLife suite of creative applications to organize all of your music, photos, and movies, isn't time to get the most out of it? From putting your photos on the web, to making the perfect slideshow of your childrens photos for the grandparrents, JWD TECH can help you do more with iLife.
Skype - Free voice or video communications over the internet. From home the office user talking to an over seas client about a new product, to the home user chatting it up about a new online card game, Skype has found its place on many of JWD TECH's clients computers. From setting up a Skype account, to picking out the right microphone, headset, or webcam, JWD TECH has been happy to help clients make use of this great technology.

iPods, iPhones, iPads - When a client has finished loading their CDs onto their new iPod, and wonders, "What else can I do?" JWD TECH has been there to show users how to get more out of iTunes, and the iPod.

Digital Photography - From new Mac users wanting to do more with iPhoto, part of iLife that ships with every Mac, to advanced users wanting to move to Aperture, Apple's Pro Photography application, JWD TECH has been there.

Backing up data - Some people just need to burn a few documents to a CD or DVD. Some need more. JWD TECH can help Mac users clone their hard drives, burn CDs and DVDs, Backup automatically to Time Machine, and even use remote automated backup systems.

Let JWD TECH take you from "I can't" to "Yes, I can!"